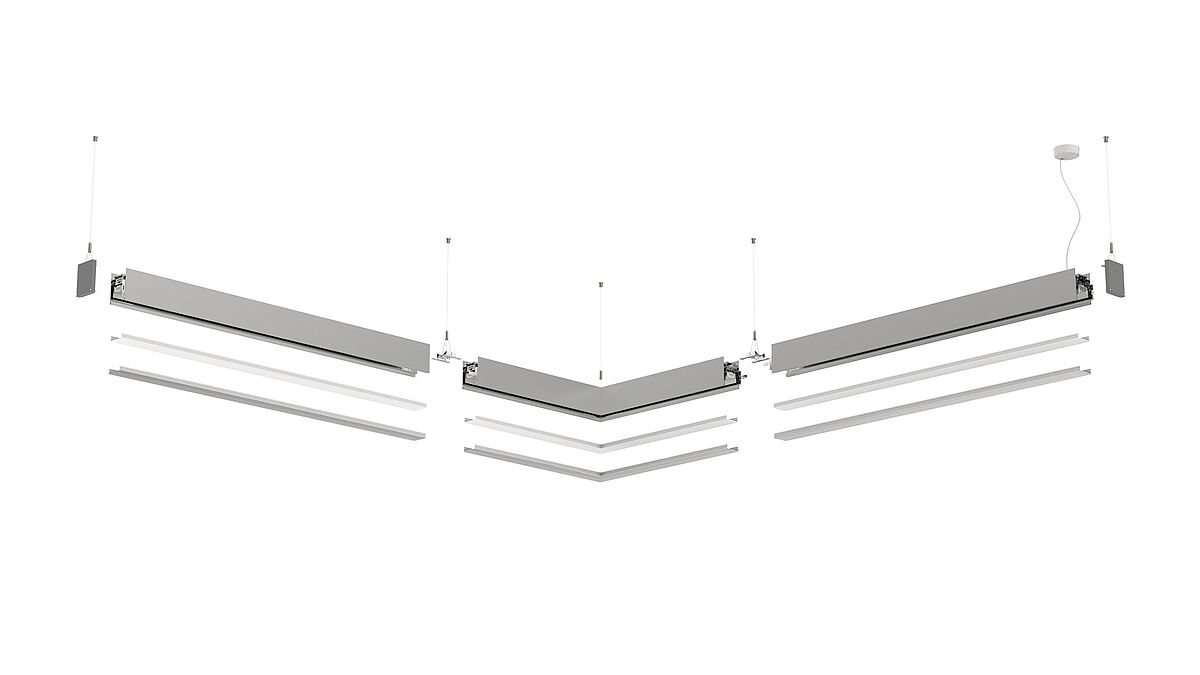 fino-HT LED
Housing
Extruded aluminium profile, natural anodised with white reflectors. Also available in traffic white (similar to RAL 9016) or black (similar to RAL 9005).

Lighting technology
Rated life time = L80 B10 50.000h.
Light colour: 4000K. Optional: 3000K. Other light colours on request.

Suspension
For face-end set fino-HTE A/E as well as for corner profile fino-HTL LB one suspension-kit is included in delivery. For each additional joint, the wire suspension incl. connector fino-SAY must be ordered separately.

Miscellaneous
Electrical connection via five-pole feed-in and connection terminal with plug-in technology, with integrated protective earth connection and unlocking button, suitable for rigid and flexible cables up to 2,5mm². Through wiring plug-in system 10A.

Read more
Accessories
Face-end set fino-HTE A/E, wire suspension fino-SAY and three- or five-pole connection cable fino-AL must be ordered separately.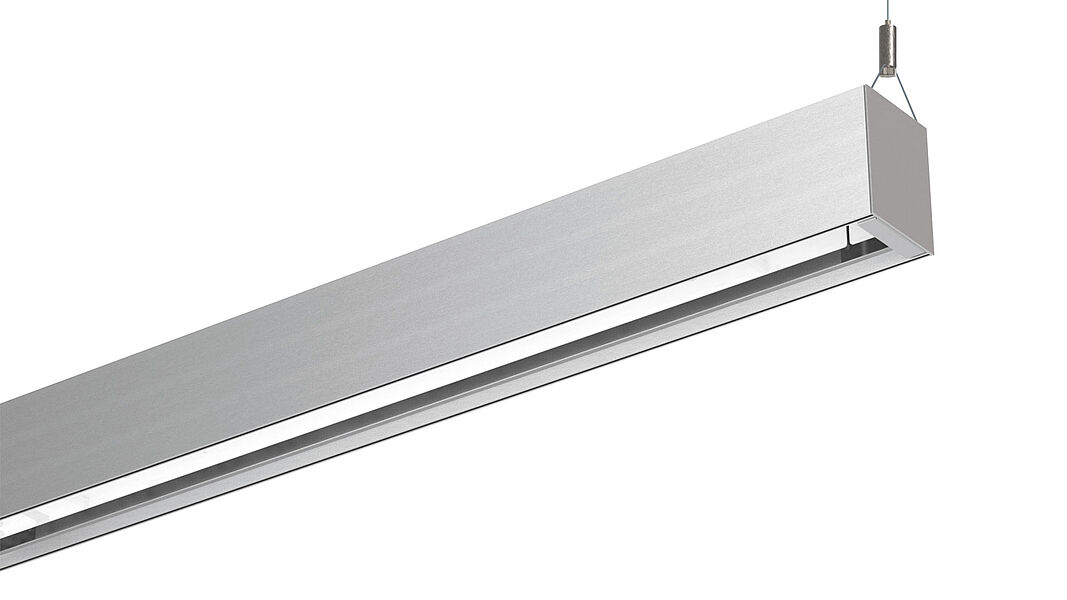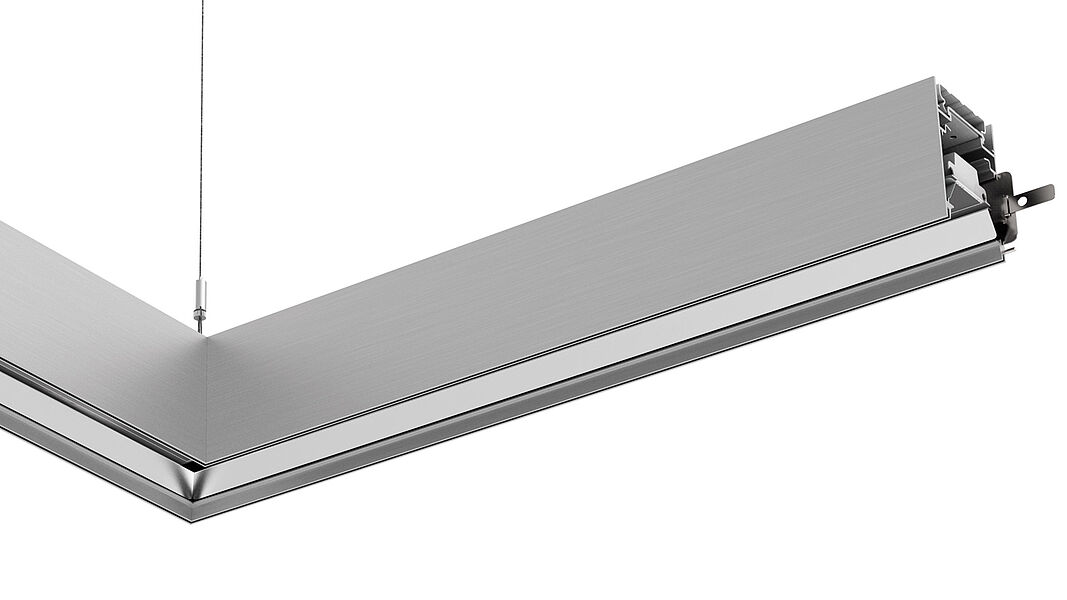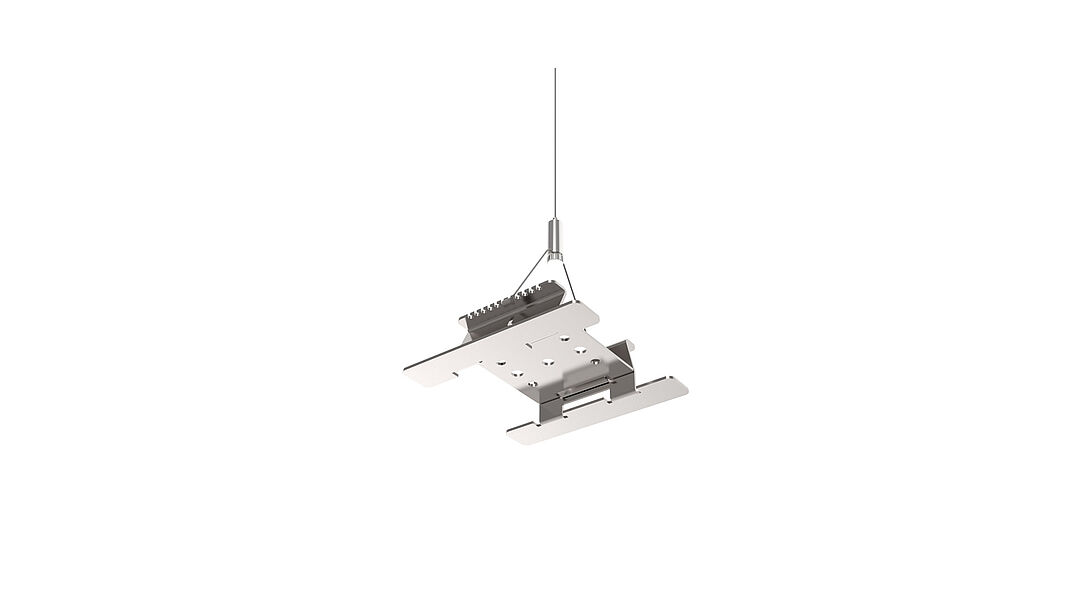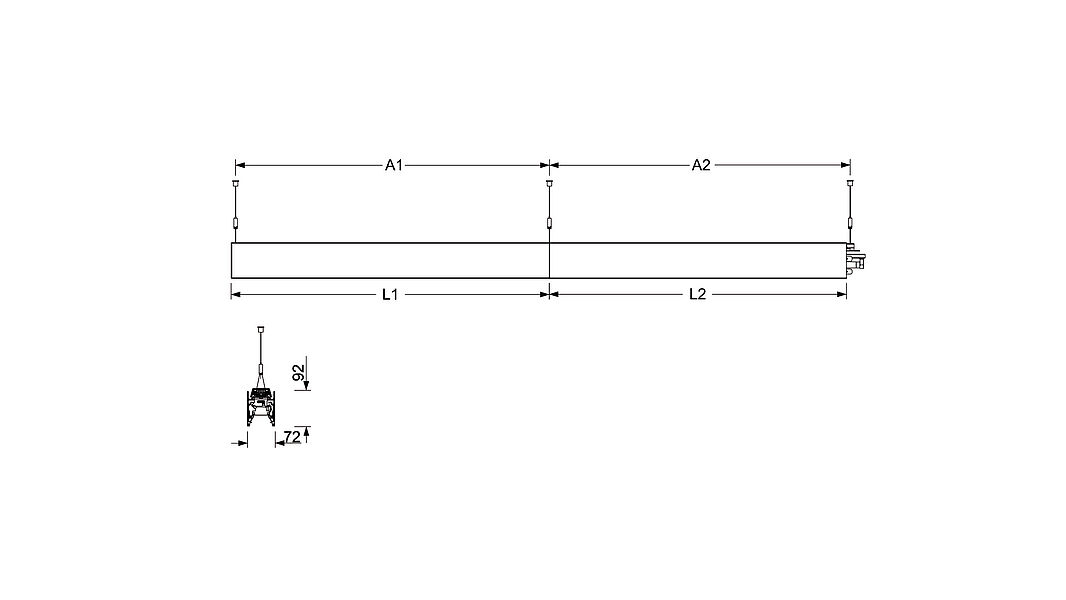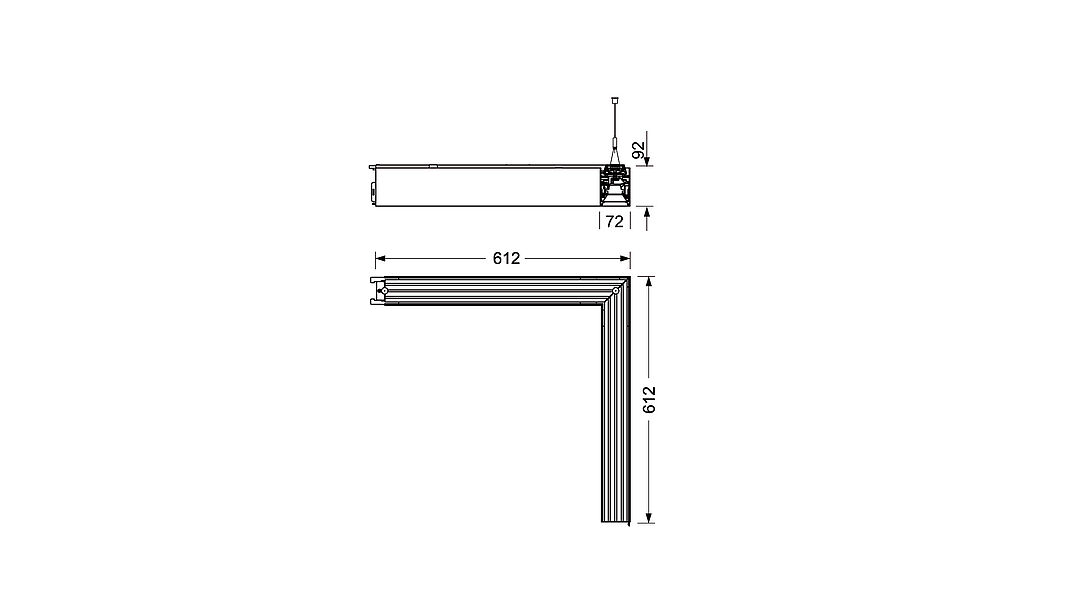 Type
Colour
Psys
Dimensions (LxWxH)
Item number
System luminaire 1100
fino-HT/1100 LED 1400 840 DALI LB
ana
14
1129x72x92
5354046605

5354046605

Download

fino-HT/1100 LED 1400 840 ET LB
ana
14
1129x72x92
5354044105

5354044105

Download

fino-HT/1100 LED 2500 840 DALI LB
ana
24
1129x72x92
5354146605

5354146605

Download

fino-HT/1100 LED 2500 840 ET LB
ana
24
1129x72x92
5354144105

5354144105

Download

System luminaire 1400
fino-HT/1400 LED 1700 840 DALI LB
ana
16
1410x72x92
5355046605

5355046605

Download

fino-HT/1400 LED 1700 840 ET LB
ana
16
1410x72x92
5355044105

5355044105

Download

fino-HT/1400 LED 3100 840 DALI LB
ana
29
1410x72x92
5355146605

5355146605

Download

fino-HT/1400 LED 3100 840 ET LB
ana
29
1410x72x92
5355144105

5355144105

Download

System luminaire 2200
fino-HT/2200 LED 2800 840 DALI LB
ana
28
2258x72x92
5358046605

5358046605

Download

fino-HT/2200 LED 2800 840 ET LB
ana
28
2258x72x92
5358044105

5358044105

Download

fino-HT/2200 LED 5000 840 DALI LB
ana
47
2258x72x92
5358146605

5358146605

Download

fino-HT/2200 LED 5000 840 ET LB
ana
47
2258x72x92
5358144105

5358144105

Download

System luminaire 2800
fino-HT/2800 LED 3500 840 DALI LB
ana
32
2820x72x92
5350046605

5350046605

Download

fino-HT/2800 LED 3500 840 ET LB
ana
32
2820x72x92
5350044105

5350044105

Download

fino-HT/2800 LED 6300 840 DALI LB
ana
59
2820x72x92
5350146605

5350146605

Download

fino-HT/2800 LED 6300 840 ET LB
ana
59
2820x72x92
5350144105

5350144105

Download

Corner luminaire 90° left
fino-HTL/L0600 LED 1400 840 DALI LB
ana
7
612x72x92
5354046625

5354046625

Download

fino-HTL/L0600 LED 1400 840 ET LB
ana
7
612x72x92
5354044125

5354044125

Download

fino-HTL/L0600 LED 2500 840 DALI LB
ana
12
612x72x92
5354146625

5354146625

Download

fino-HTL/L0600 LED 2500 840 ET LB
ana
12
612x72x92
5354144125

5354144125

Download

Corner luminaire 90° right
fino-HTL/R0600 LED 1400 840 DALI LB
ana
7
612x72x92
5354046615

5354046615

Download

fino-HTL/R0600 LED 1400 840 ET LB
ana
7
612x72x92
5354044115

5354044115

Download

fino-HTL/R0600 LED 2500 840 DALI LB
ana
12
612x72x92
5354146615

5354146615

Download

fino-HTL/R0600 LED 2500 840 ET LB
ana
12
612x72x92
5354144115

5354144115

Download
Accessories
Type
Colour
Details
Dimensions (LxWxH)
Item number
fino-HTE LED A/E (K/MP) Set
wa
End caps for system luminaires
13x72x93
5350110105

5350110105

Download

fino-SAY
si
Wire suspension for fino-HT incl. connector 2000mm
-
5350000105

5350000105

Download

fino-AL 3x0,75
tc
3-pole connection for fino-HT
-
5350037105

5350037105

Download

fino-AL 5x0,75
tc
5-pole connection for fino-HT
-
5350057105

5350057105

Download