serio-HIT LED
Housing
Aluminium profile, naturally anodised, texture painted traffic white (similar to RAL 9016).
Lighting technology
Direct/indirect distribution, DALI variant separately dimmable (exept variant /0800).
Constant indirect share via white-opal, satin-finished acrylic diffusor throughout all system components.
Direct share via white-opal, satin finished acrylic endless diffusor serio-G.
Rated life time = L80 B10 50.000h.
Light colour:4000K. Optional: 3000K. Other light colours on request.
Miscellaneous
Electrical connection via tree-pole, for dimmable luminaires five-pole feed-in and connection terminal with plug-in technology, with integrated protective earth connection and unlocking button, suitable for rigid and flexible cables up to 2,5mm². Through wiring plug-in system 10A.
Read more
Suspension
For system profile serio-HIT LB one wire suspension is in scope of delivery.
Accessories
Endlessdiffusor serio-G for direct share must be ordered separately according to total system length. For open lighting system designs the face-end set serio-HITE A/E LB, for closed lighting system designs the connection cable serio-AL must be ordered separately.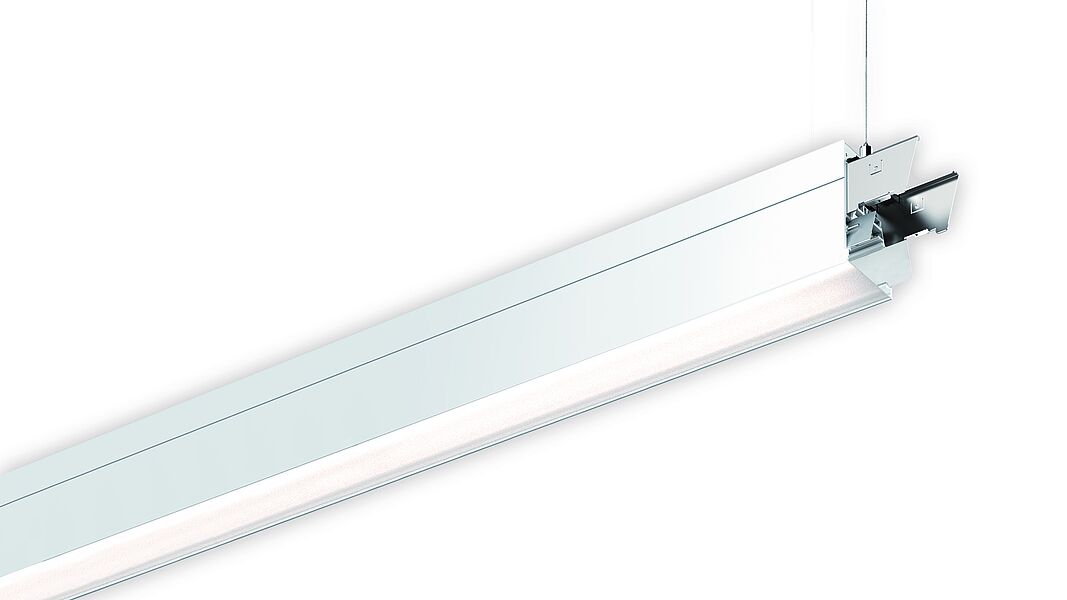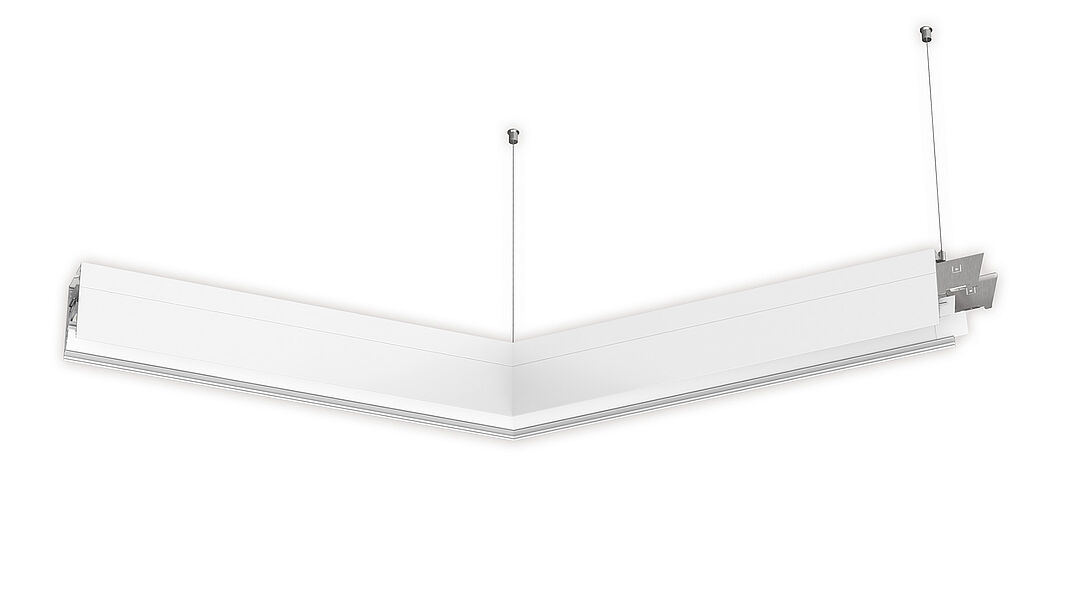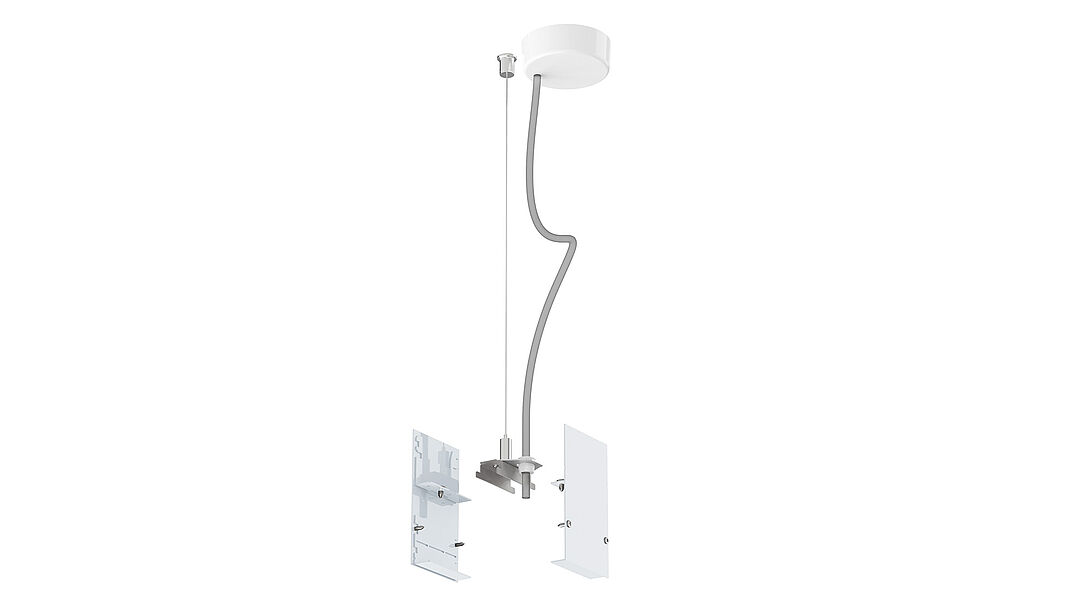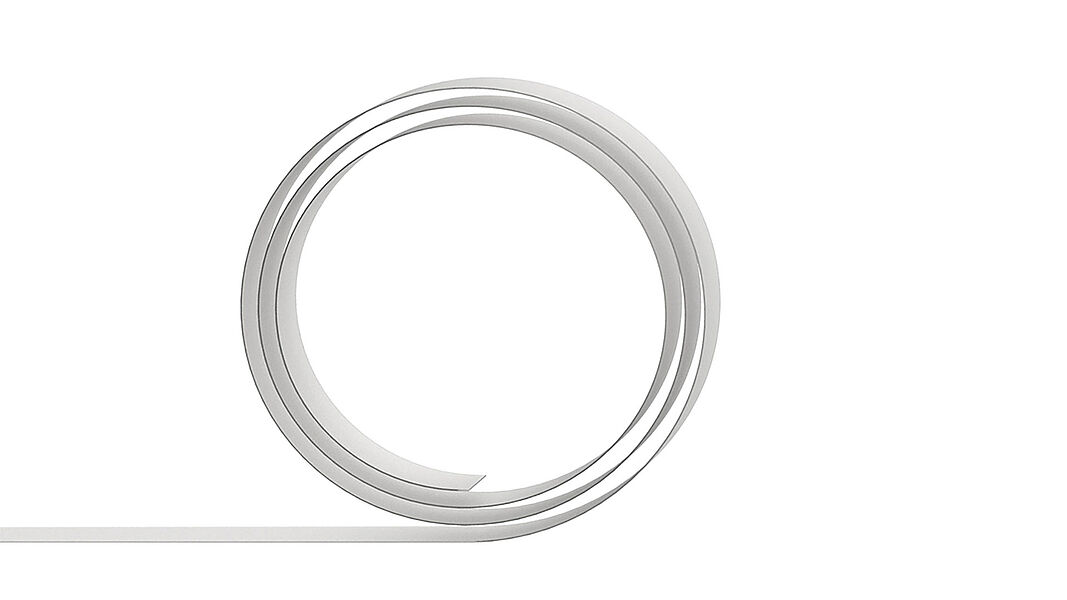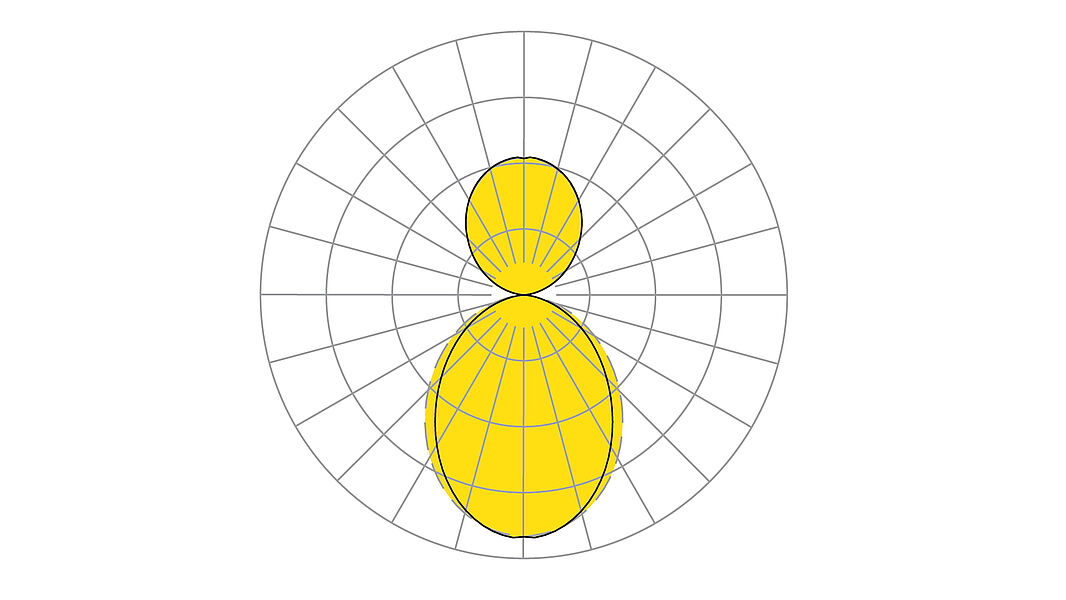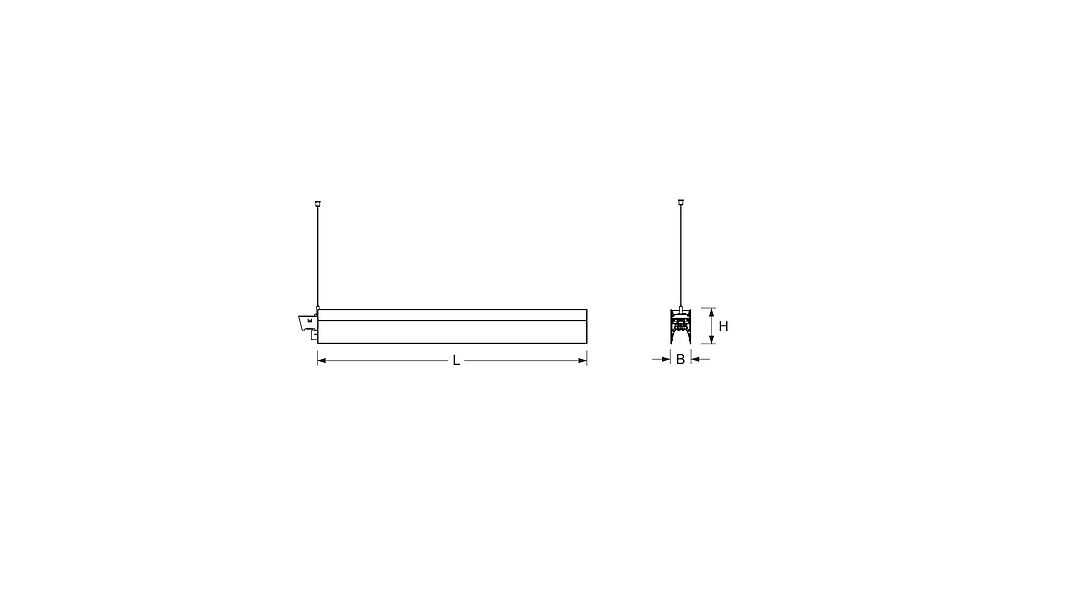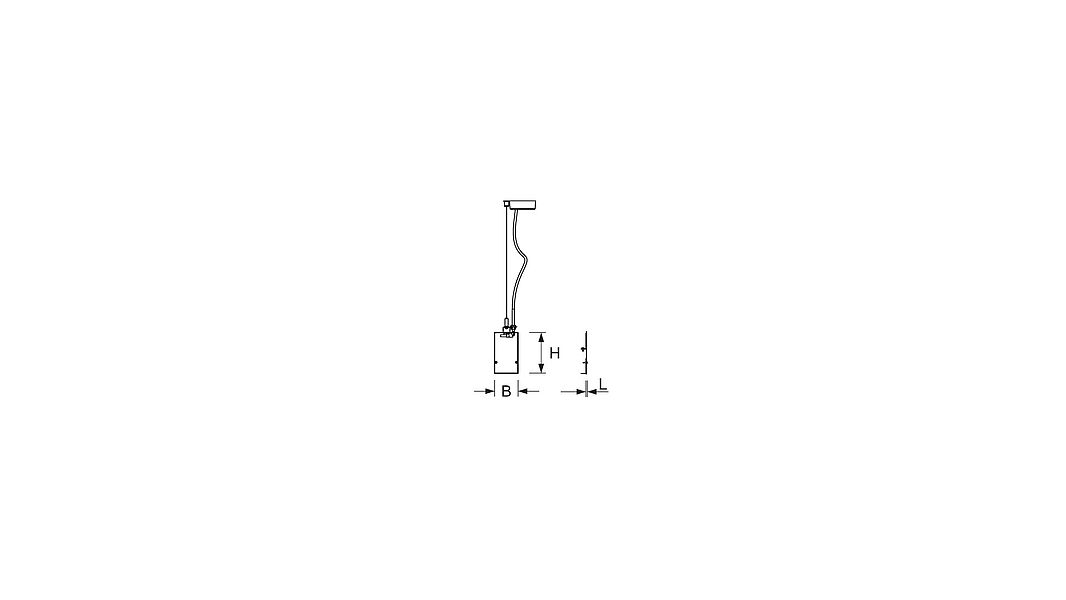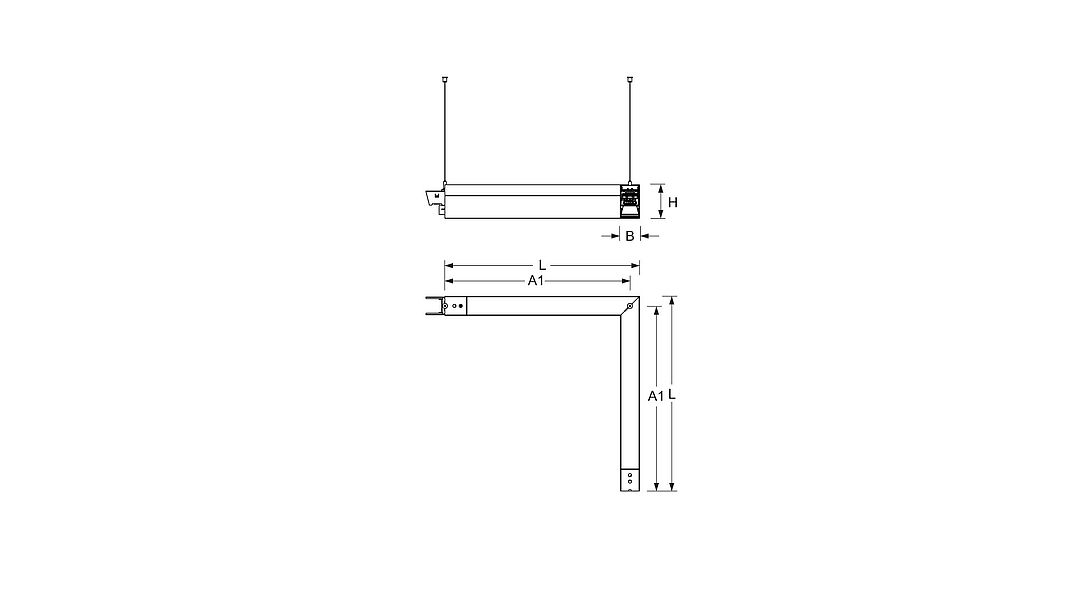 Type
Output
Colour
Psys (W)
Dimensions (LxWxH)
Item number
System luminaires 0800
serio-HIT/0800 LED 2400 840 ED LB tw
low
tw
20
845x61x106
5433044101

5433044101

Download

serio-HIT/0800 LED 4500 840 DALI LB tw
high
tw
41
845x61x106
5433146601

5433146601

Download

serio-HIT/0800 LED 4500 840 ED LB tw
high
tw
41
845x61x106
5433144101

5433144101

Download

System luminaires 1100
serio-HIT/1100 LED 3200 840 ED LB tw
low
tw
26
1125x61x106
5434044101

5434044101

Download

serio-HIT/1100 LED 6000 840 DALI LB tw
high
tw
55
1125x61x106
5434146601

5434146601

Download

serio-HIT/1100 LED 6000 840 ED LB tw
high
tw
55
1125x61x106
5434144101

5434144101

Download

System luminaires 1400
serio-HIT/1400 LED 4100 840 ED LB tw
low
tw
34
1405x61x106
5435044101

5435044101

Download

serio-HIT/1400 LED 7700 840 DALI LB tw
high
tw
71
1405x61x106
5435146601

5435146601

Download

serio-HIT/1400 LED 7700 840 ED LB tw
high
tw
71
1405x61x106
5435144101

5435144101

Download

System luminaires 1700
serio-HIT/1700 LED 4800 840 ED LB tw
low
tw
39
1685x61x106
5436044101

5436044101

Download

serio-HIT/1700 LED 9000 840 DALI LB tw
high
tw
82
1685x61x106
5436146601

5436146601

Download

serio-HIT/1700 LED 9000 840 ED LB tw
high
tw
82
1685x61x106
5436144101

5436144101

Download

System luminaires 2200
serio-HIT/2200 LED 12000 840 DALI LB tw
high
tw
110
2245x61x106
5438146601

5438146601

Download

serio-HIT/2200 LED 12000 840 ED LB tw
high
tw
110
2245x61x106
5438144101

5438144101

Download

serio-HIT/2200 LED 6400 840 ED LB tw
low
tw
53
2245x61x106
5438044101

5438044101

Download

System luminaires 2800
serio-HIT/2800 LED 15400 840 DALI LB tw
high
tw
142
2805x61x106
5430146601

5430146601

Download

serio-HIT/2800 LED 15400 840 ED LB tw
high
tw
142
2805x61x106
5430144101

5430144101

Download

serio-HIT/2800 LED 8200 840 ED LB tw
low
tw
68
2805x61x106
5430044101

5430044101

Download

Corner luminaires 90° left
serio-HITL/90° LED 3200 840 ED LB tw
low
tw
26
615x61x106
5434044121

5434044121

Download

serio-HITL/90° LED 6000 840 DALI LB tw
high
tw
55
615x61x106
5434146621

5434146621

Download

serio-HITL/90° LED 6000 840 ED LB tw
high
tw
55
615x61x106
5434144121

5434144121

Download

Corner luminaires 90° right
serio-HITR/90° LED 3200 840 ED LB tw
low
tw
26
615x61x106
5434044111

5434044111

Download

serio-HITR/90° LED 6000 840 DALI LB tw
high
tw
55
615x61x106
5434146611

5434146611

Download

serio-HITR/90° LED 6000 840 ED LB tw
high
tw
55
615x61x106
5434144111

5434144111

Download

Corner luminaires 135° left
serio-HITL/135° LED 3200 840 ED LB tw
low
tw
26
585x61x106
5464044121

5464044121

Download

serio-HITL/135° LED 6000 840 DALI LB tw
high
tw
55
585x61x106
5464146621

5464146621

Download

serio-HITL/135° LED 6000 840 ED LB tw
high
tw
55
585x61x106
5464144121

5464144121

Download

Corner luminaires 135° right
serio-HITR/135° LED 3200 840 ED LB tw
low
tw
26
585x61x106
5464044111

5464044111

Download

serio-HITR/135° LED 6000 840 DALI LB tw
high
tw
55
585x61x106
5464146611

5464146611

Download

serio-HITR/135° LED 6000 840 ED LB tw
high
tw
55
585x61x106
5464144111

5464144111

Download
Accessories
Type
Colour
Details
Dimensions (LxWxH)
Item number
serio-G/06000 LED
tz
Endless diffusor 6 metres
6000
5430600180

5430600180

Download

serio-G/10000 LED
tz
Endless diffusor 10 metres
10000
5431000180

5431000180

Download

serio-G/20000 LED
tz
Endless diffusor 20 metres
20000
5432000180

5432000180

Download

serio-HITE LED A/E Set 3x0,75
tw
2x face ends, 1x 3 wire connection cord incl. canopy, 1x suspension
2000
5430137101

5430137101

Download

serio-HITE LED A/E Set 5x0,75
tw
2x face ends, 1x 5 wire connection cord incl. canopy, 1x suspension
2000
5430157101

5430157101

Download

serio-AL 3x0,75
tz
3 wire connection cord incl. canopy
2000
5430037105

5430037105

Download

serio-AL 5x0,75
tz
5 wire connection cord incl. canopy
2000
5430057105

5430057105

Download